ATMS SOFTWARE
Platinum COntrol 2.0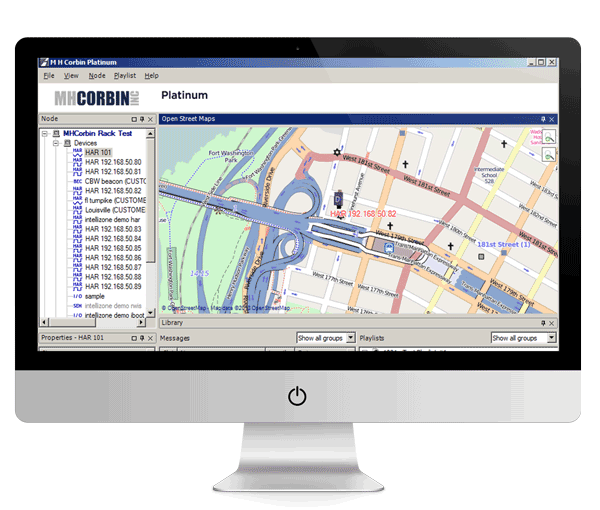 Platinum Control Software ▰ ▰ ▰
Questions?
ALL-IN-ONE PACKAGE MONITORs ENTIRE HAR NETWORK
THE MOST ADVANCED HAR CONTROL PLATFORM AVAILABLE
Platinum Control Software provides data management, control, and viewing of transportation equipment. This unique software package allows for full control of Highway Advisory Radios (HARs) by monitoring, creating and changing broadcast messages for every HAR System in your network.
Message recording, editing, review, scheduling and synchronizing are quick and easy through the intuitive graphical user interface. Features include map displays of each HAR system in your network, message library to simplify sending messages to the public, and simple execution of commands for your entire HAR network.
CURRENT VERSIONS
V2.0 | Client
V1.3 | Server
Control one or more devices with a single command

 Support for customized maps and multiple users

 Prioritize and schedule broadcast messages

 Single or recurrent operations are supported

 Powerful Text-To-Speech capability available

 Scalable for small or large multi-server systems
Controls an Entire Network
Control one or more devices with a single command
HAR Data Management Dashboard
Manage, communicate, view equipment; Monitor, create and schedule messages
Scalable
Scalable for small or large multi-server systems
ONE SOFTWARE TO MONITOR HAR, VMS & FLASHING BEACON SYSTEMS
In addition to HAR Systems, Platinum Control Software can monitor RWIS, Wavetronix and other sensor data as well as manage beacon systems and
variable messages signs (VMS). The software also has the ability to monitor set parameters and alert an administrator or user.
Operating System
Client – Windows 7 or 10
Server – Windows Server 2008 or greater
Processor
2.0 GHz or faster Pentium class 4
Memory/Storage
Min. 1GB RAM/ 2GB HDD
Database
1 required. MS SQL Server 2008 or greater MySQL 5.0 or greater | Postgressql 9.2 or greater
Dialup Devices
1 PCIx Slot
Connectivity
TCP/IP 100/1000 MBPS (Ethernet), dialup-DTMF
Mapping
Open Street Maps (online) Static Image (offline)
Architecture
Client, server
Platinum Software Downloads
Distributor Map HAR
USA
Americas
Canada
Latin America
Ecuador
Sistemas Tecnológicos Cia. Ltda.
Diego Alcocer
593 2 6043210
dalcocer@sistemastecnologicos.com.ec
http://sistemastecnologicos.com.ec
Middle East
United Arab Emirates
Felix Devices & Equip Trading , LLC
Naser Ismail
P.O. Box 235733
Dubai
04 273 7797
felixdevicesdxb@gmail.com
GLOBAL
Technical Support
US Toll-Free: 800-380-1718
+1 (614) 873-5216
Contact Support
If you are not able to successfully troubleshoot and would like to return a product to M. H. Corbin for service, please contact us for an RMA (Return Materials Authorization) Number.