TCM
Transmitter Control Module
INCREASES OR DECREASES HAR BROADCAST RANGE
An important feature for highway advisory radio (HAR) systems is to vary the power level of the transmitter output. This will increase or decrease the coverage area accordingly. The TCM-1 Transmitter Control Module (when used in conjunction with the TXM4 transmitter) allows the power to be set to from 0.1 watts up to 30.0 watts.
The TCM-1 Module is controlled from the MH Corbin DR1500 or CAM-1 recorder/player, which in turn can be controlled remotely using Platinum software.
Remote control command to set power level from 0 to 30 Watts in 0.1 Watt increments
Remote report command to read back Set Power, Measured Forward Power, Measured Reflected Power, VSWR, and Modulation Level
Front panel display to show Set Power, Measured Forward Power, Measured Reflected Power, VSWR, and Modulation Level
No maintenance required
Operates on 110 V AC line or on 12 V DC battery backup power
30 Watt Boost
FCC Rule 90.242 specifies limits for HAR broadcasts. The TCM-1 can exceed FCC limitations.
Remote Control
Set power level using Platinum Software
Front Panel Display
Ptovides user feedback for power boost
Housing Size
7.7" (h) x 12.0" (w) x 8.8" (d)
Base Plate Size
15.0" (w) x 11.8" (d)
Weight
15 lb.
Temperature
-40 to +85° C
Humidity
95% non-condensing
Program via
Local: control panel
Remote: Platinum Software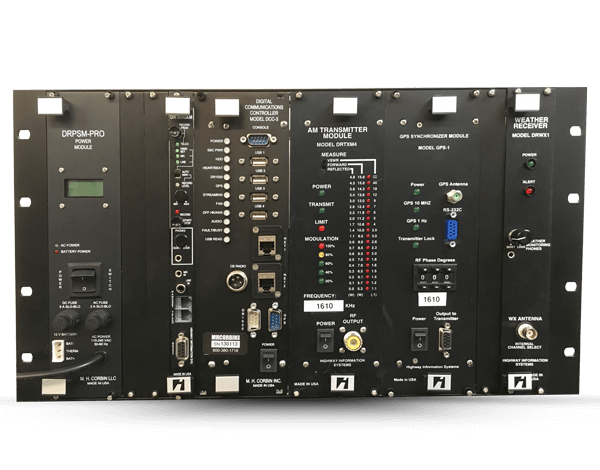 Modular ▰ ▰ ▰
Components
Highway Advisory Radio (HAR) systems from MH Corbin utilize AM, FM and CB radio frequencies to broadcast messages to motorists. Informing drivers before they encounter delays and add to traffic problems is important for maintaining a safe driving environment. Since AM radio is a standard feature in nearly all vehicles, using MH Corbin HAR is one of the most practical ways to get the message out to everyone.
Popular HAR System Downloads
Distributor Map HAR
USA
Americas
Canada
Latin America
Ecuador
Sistemas Tecnológicos Cia. Ltda.
Diego Alcocer
593 2 6043210
dalcocer@sistemastecnologicos.com.ec
http://sistemastecnologicos.com.ec
Middle East
United Arab Emirates
Felix Devices & Equip Trading , LLC
Naser Ismail
P.O. Box 235733
Dubai
04 273 7797
felixdevicesdxb@gmail.com
GLOBAL
Technical Support
US Toll-Free: 800-380-1718
+1 (614) 873-5216
Contact Support
If you are not able to successfully troubleshoot and would like to return a product to M. H. Corbin for service, please contact us for an RMA (Return Materials Authorization) Number.