ATMS Software
INtellizone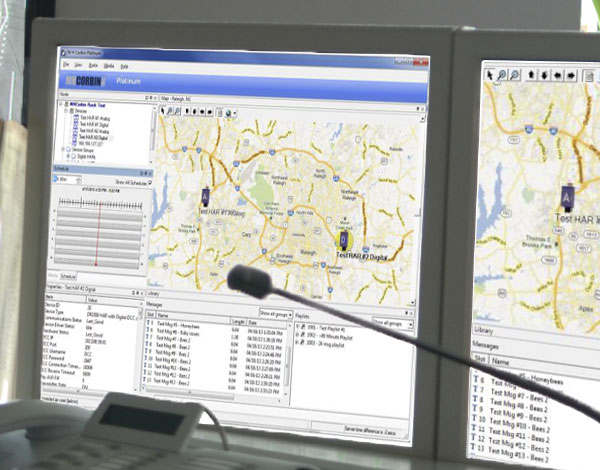 IntelliZone ATMS Software ▰ ▰ ▰
Questions?
Gathers, analyzes and distributes ROAD conditions in real-time
DELIVERS MESSAGES TO AN ENTIRE ITS NETWORK BASED ON REAL-TIME WEATHER & TRAFFIC CONDITIONS
The IntelliZone System from MH Corbin is an advanced ITS software platform that allows you to manage and deliver real-time messages to motorists, well in advance of weather-related concerns or traffic congestion. Providing motorists with accurate, timely information they can trust is challenging, but the IntelliZone delivers with customized systems to meet your needs.
With each application, the IntelliZone System gathers sensor information and automatically updates dynamic message signs and Highway Advisory Radio (HAR) messages to reflect conditions ahead
---
Map feature displays all devices graphically

Modular, scalable, flexible architecture can be easily modified to meet your project requirements

Can be used with existing road/traffic sensors and message signs

User defined thresholds trigger emails, messages, and events which update motorists
Works in Real-Time
Gathers, analyzes, and delivers data from road, traffic and atmospheric sensors.
Boosts Existing ITS Network
User defines the thresholds that trigger email, sms, and/or entire network of message signs.
Scalable
Scalable for small or large multi-server systems
HOW IT WORKS
Alerts motorists to:
Draw bridge, tunnel, or rail crossing closure
High winds
Icy or flooded roadways
Low visibility due to fog
Low visibility due to snow
Slow or stopped traffic
Over-height vehicles
Smart work zones
Alerts TMC operators to:
Road treatment effectiveness
Traffic and speed conditions
Evacuation route alternatives
Ramp closures
Intellizone System Downloads
Distributor Map HAR
USA
Americas
Canada
Latin America
Ecuador
Sistemas Tecnológicos Cia. Ltda.
Diego Alcocer
593 2 6043210
dalcocer@sistemastecnologicos.com.ec
http://sistemastecnologicos.com.ec
Middle East
United Arab Emirates
Felix Devices & Equip Trading , LLC
Naser Ismail
P.O. Box 235733
Dubai
04 273 7797
felixdevicesdxb@gmail.com
Europe
Eastern Europe
Poland
FUSiT SYGNAŁY S.A.
ul. Sygnały 62
Rybnik
Tel. 48324218431
marketing@sygnaly.com.pl
www.sygnaly.com.pl
Southern Europe
Selekta Prima D.O.O Contact: Miroslav Paclik I. Trnava 49 10040 Zagreb, pp-132 Hrvatska, Croatia mpaclik@yahoo.com +385912990112
S.C.A.E. S.p.A. Via Alessandro Volta, 6 – 20090 Segrate (MI) Tel. +39 02 26930.1 Fax +39 02 26930.310 Skype LucchiniE.scae.net LucchiniE@scae.net www.scae.net
Western Europe
MAGSYS 1 place de la libération 64200 BIARRITZ jm.coutellier@magsys.net +33 (0)5 24 33 00 16
Global Traffic Service GmbH & Co Contact: Christof Herlich Meisenweg 17 50171 Kerpen Germany herrlich@globaltrafficservice.de +49 2237 9799950
Asia-Pacific
Hwaheung Road Safety Systems Co., Ltd Rm. 2107, Daesung D-POLIS B Building Gasan-Dong 543-1 Geumcheon-Gu, Seoul 153-719 South Korea Jason Hwang hwaheung7@daum.net 82-2-839-8393
Linkasia Marketing (Taiwan) Co. , LTD Attn: Harry Chen 10F-2, No. 31, Section Four Ren Ai Road Taipei 10685 Taiwan harry@linkasia.com.tw 866-2-2731-4809 phone 886-2-2711-1967 fax
GLOBAL
Technical Support
US Toll-Free: 800-380-1718
+1 (614) 873-5216
Contact Support
If you are not able to successfully troubleshoot and would like to return a product to M. H. Corbin for service, please contact us for an RMA (Return Materials Authorization) Number.