PORTABLE
Highway Advisory Radio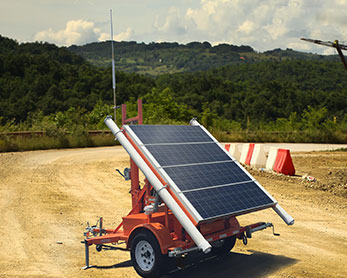 Solar Max Highway Advisory Radio ▰ ▰ ▰
Questions?
SolarMax | Highway advisory Radio for Work Zones
A TRUE MOBILE COMMUNICATION HUB
The SolarMax Portable HAR System keeps traffic flowing by broadcasting up-to-the-minute radio advisories to motorists. The flexibility of the SolarMax System allows for quick 10 minute or less set-ups. Solar charged power offers dependable service around the clock and during extended periods of inclement weather.
The SolarMax System utilizes low power AM radio to inform motorists of conditions ahead, giving them enough time to take action or alternate routes. The SolarMax System can be used to assist in managing a construction site, a temporary incident, an inclement weather evacuation, or a frequently congested traffic area.
Messages can be changed quickly and remotely should conditions vary, and when the job is finished, the SolarMax System can be ready for duty on the next upcoming project.
Utilizes AM Radio
Standard in almost all vehicles
Synchronized Broadcasts
Can be used stand-alone or with a network of permanent and portable HAR systems
Mobile Command
Can broadcast messages to motorists in a five mile radius
EASY TO DEPLOY, STORE
AND REMOVE
The SolarMax has the ability to save messages for years with no external power source. That means no fuel, no landline utilities, no noise, no maintenance and no lost messages. Even in outdoor storage, the SolarMax is charging the batteries so you can be set up and on the air in minutes.
Simple and quick to assemble, deploy and disassemble
Broadcasts messages to motorists in a 3 to 5 mile radius
Robust design, including built-in lightning suppression
Meets all FCC rules and regulations
Weather-resistant and theft deterrent enclosures
Portable ground system
On-board digital recorder preserves audio messages with no external power source
520 watt solar
720 AMP battery
Provides 10 days continuous use during inclimate weather
Modular ▰ ▰ ▰
Components
Highway Advisory Radio (HAR) systems from MH Corbin utilize AM, FM and CB radio frequencies to broadcast messages to motorists. Informing drivers before they encounter delays and add to traffic problems is important for maintaining a safe driving environment. Since AM radio is a standard feature in nearly all vehicles, using MH Corbin HAR is one of the most practical ways to get the message out to everyone.
Advanced ▰ ▰ ▰
SOFTWARE
Message recording, editing, review, scheduling and synchronizing are quick and easy through the intuitive graphical user interface that features map displays for each HAR system in your network. Manage and store a library of messages for quick release to the public, including the capability to execute commands for your entire HAR network in just a few simple steps.Platinum can manage other transportation communication devices such as flashing beacons and variable messages signs (VMS). The software also has the ability to monitor set parameters and alert an administrator or user through email. The software system consists of a central server that manages and stores all information about the devices, and a client software that allows a user to manipulate and control the central server.
Platinum Software
Popular SolarMax System Downloads
Distributor Map HAR
USA
Americas
Canada
Latin America
Ecuador
Sistemas Tecnológicos Cia. Ltda.
Diego Alcocer
593 2 6043210
dalcocer@sistemastecnologicos.com.ec
http://sistemastecnologicos.com.ec
Middle East
United Arab Emirates
Felix Devices & Equip Trading , LLC
Naser Ismail
P.O. Box 235733
Dubai
04 273 7797
felixdevicesdxb@gmail.com
GLOBAL
Technical Support
US Toll-Free: 800-380-1718
+1 (614) 873-5216
Contact Support
If you are not able to successfully troubleshoot and would like to return a product to M. H. Corbin for service, please contact us for an RMA (Return Materials Authorization) Number.