ITS
NC350 BlueStar PTA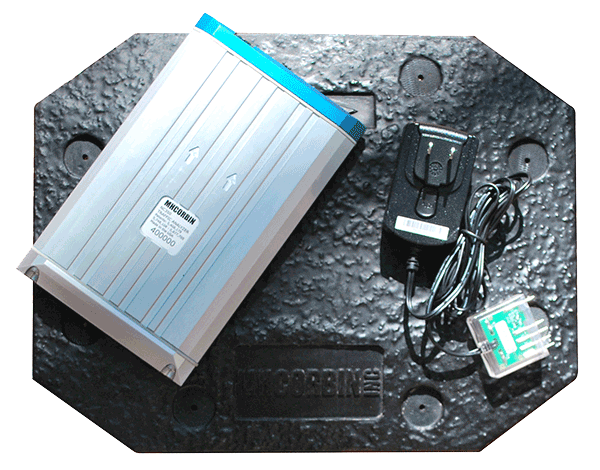 NC350 Portable Traffic Analyzer ▰ ▰ ▰
Questions?
PORTABLE TRAFFIC ANALYZER with BLUETOOTH COMMUNICATIONS
ACCURATE TRAFFIC DATA MAKES DECISION MAKING EASY
The state-of-the-art NC350 BlueStar Portable Traffic Analyzer combines the bulletproof performance of the NC300 with Bluetooth technology to make data transfer from multiple devices efficient and easy.
In the lab, the NC350 analyzer will wirelessly connect to a computer for export to new or existing traffic studies. Vehicle count, speed, and classification can also be presented in the form of easy to read reports, charts, and graphs.
The lithium ion rechargeable NC350 BlueStar Portable Traffic Analyzer is housed in an extruded aluminum case and can be secured to the road using a reusable rubber cover causing no damage to road surfaces. NC350 analyzers use vehicle magnetic imaging and can count and classify up to 300,000 vehicles or up to 21 days per study, whichever comes first.
Accurate Counts
Vehicle count accuracy +/- 1% for 95% of vehicles
Wireless Communication
Bluetooth technology makes data transfer from multiple devices efficient and easy
Specific Lane Counts
Accurately measures traffic counts per lane
Why Choose
Studies to determine the type of vehicle and speeds on a road at any given time of day are helping governments and consultants improve traffic patterns and determine driver compliance to posted speed limits. With technology improving at the most rapid pace in generations, companies with the know-how to build reliable and durable systems will lead the way to help reduce congestion and increase safety on the world's roads. MH Corbin takes pride in developing products for not just today's road, but tomorrow's road.
Communicates wirelessly via Bluetooth™ Technology
Can be installed and removed in minutes
Inconspicuous design blends in with road surface
Individual vehicle recording allows infinite binning capabilities
Durable extruded aluminum housing
Long-life, rechargeable, Lithium-Ion battery
Easy to use software for viewing data
Housing Material
Extruded/anodized aluminum
Ultimate Bearing Strength
88.000 psi (607 Mpa)
Dimensions
181 x 118 x 12.7mm / 7.125 x 4.625 x 0.5 in
Weight
0.59 Kg / 1.3 lb
Operating Temperature
-20°C to +60°C / (-4°F to +140°F)
Sensor
GMR Magnetic chip for Vehicle Magnetic Imaging
Memory
Micro Serial Flash: 3MB
LI-ion Battery Life
Up to 21 days before recharge
Values
Metric / imperial
Capacity
Up to 300,000 vehicles or 21 days per study, whichever occurs first
Communication
USB or Bluetooth
Battery
3.0VDC to 4.2VDC
Field replaceable, Lithium-Ion, rechargeable, overcharge protection, 3000 mAH at 23°C Nom 3.70VDC
Length Accuracy
±4 ft, 90% of vehicles
Speed Accuracy
±4 ft, 90% of vehicles
Count Accuarcy
± 1%, 95% of vehicles
Vehicle Detection
Vehicles from 8 – 193 KPH / 5 – 120 MPH
Distributor Map - DMI
USA
Americas
Canada
Latin America
Ecuador
Sistemas Tecnológicos Cia. Ltda.
Diego Alcocer
593 2 6043210
dalcocer@sistemastecnologicos.com.ec
http://sistemastecnologicos.com.ec
Middle East
United Arab Emirates
Felix Devices & Equip Trading , LLC
Naser Ismail
P.O. Box 235733
Dubai
04 273 7797
felixdevicesdxb@gmail.com
Europe
Eastern Europe
Poland
FUSiT SYGNAŁY S.A.
ul. Sygnały 62
Rybnik
Tel. 48324218431
marketing@sygnaly.com.pl
www.sygnaly.com.pl
Southern Europe
Selekta Prima D.O.O Contact: Miroslav Paclik I. Trnava 49 10040 Zagreb, pp-132 Hrvatska, Croatia mpaclik@yahoo.com +385912990112
S.C.A.E. S.p.A. Via Alessandro Volta, 6 – 20090 Segrate (MI) Tel. +39 02 26930.1 Fax +39 02 26930.310 Skype LucchiniE.scae.net LucchiniE@scae.net www.scae.net
Western Europe
MAGSYS 1 place de la libération 64200 BIARRITZ jm.coutellier@magsys.net +33 (0)5 24 33 00 16
Global Traffic Service GmbH & Co Contact: Christof Herlich Meisenweg 17 50171 Kerpen Germany herrlich@globaltrafficservice.de +49 2237 9799950
Asia-Pacific
Hwaheung Road Safety Systems Co., Ltd Rm. 2107, Daesung D-POLIS B Building Gasan-Dong 543-1 Geumcheon-Gu, Seoul 153-719 South Korea Jason Hwang hwaheung7@daum.net 82-2-839-8393
Linkasia Marketing (Taiwan) Co. , LTD Attn: Harry Chen 10F-2, No. 31, Section Four Ren Ai Road Taipei 10685 Taiwan harry@linkasia.com.tw 866-2-2731-4809 phone 886-2-2711-1967 fax
GLOBAL
Technical Support
US Toll-Free: 800-380-1718
+1 (614) 873-5216
Contact Support
If you are not able to successfully troubleshoot and would like to return a product to M. H. Corbin for service, please contact us for an RMA (Return Materials Authorization) Number.