ATMS
Connect:ITS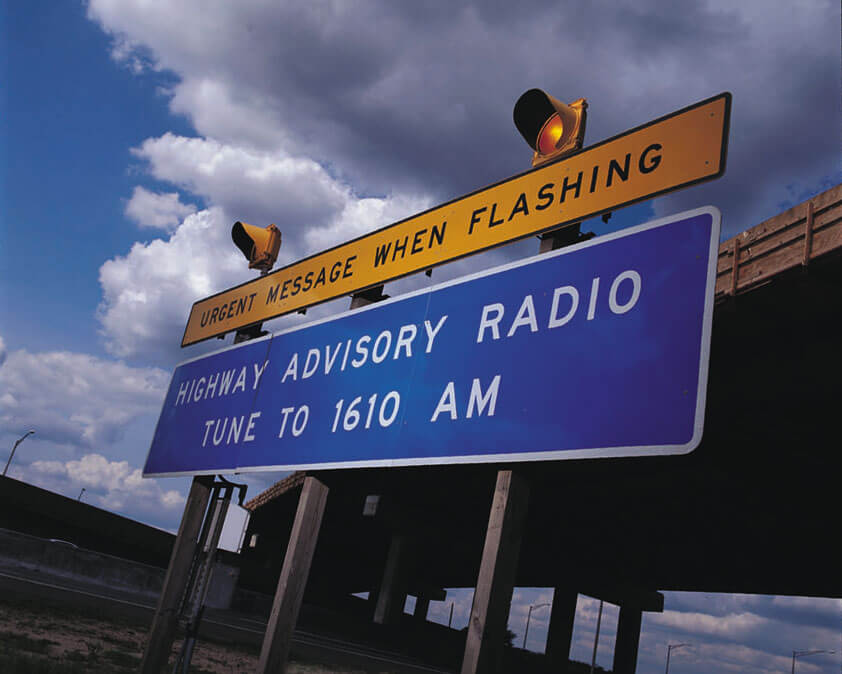 Highway Advisory Radio ▰ ▰ ▰
Questions?
All-in-one transportation management alert system
A roadside controller with numerous communications options and multiple sensor inputs.
The Connect:ITS Advanced Traffic Management System is engineered to be a simple to use, scalable and low power roadside information system. Using data from both M.H. Corbin and popular third party sensors, algorithms compute changing traffic and weather conditions in real-time.
Data is then analyzed and distributed to your existing messaging network of HAR systems, dynamic message signs and flashing beacon systems. Additional outputs can also be used to send data to in-vehicle warning systems via DSRC based systems.
Future Tech Compatible
Inputs and Outputs conform to state-of-the-art protocols.
Roadside Real-Time Computing
Ultra durable roadside mounted controller computes logic in
hyper-local environments.
Multiple Alert Options
Drivers are informed of hazards using any combination of infrastructure and in-vehicle alert systems.
HOw It Works
The Connect:ITS ATMS controlelr uses IF/THEN scenarios to analyze incoming data from weather, pavement, speed and other sensors. Commands based on sensor input are then sent to DMS, HAR, beacons, variable speed limit signs and DSRC systems.
Sensor Input Options
Non-Invasive Pavement Sensors
Radar Sensors
Visibility Sensors
Pavement Sensors
Weather Sensors
Alert Destination Options
Highway Advisory Radio
Variable Speed Limit Signs
Email / Text Alerts / SNMP Trap
Flashing Beacon Systems
Dynamic Message Signs
DSRC Based Systems
Digital Output
Multiple ▰ ▰ ▰
INPUT/OUTPUT PORTS
The CONNECT: ITS System is compatible with most legacy, existing, and future sensor systems including radar and speed, pavement condition, and temperature sensors, RWIS sensors, and DSRC devices.
LED Display
Display Output button
Cellular, GPS, Pavement
Sensor and DSRC
Connections
RS-232 Serial inputs for legacy sensors
Ethernet switch
Multiuse USB ports
RS-485 Sensor Inputs
General Purpose Inputs, Outputs, Relays, and Status LEDs.
Roadside ATMS ▰ ▰ ▰
Features
A CONNECT: ITS System can be scaled to operate as a stand-alone unit or as an add-on to an existing ATMS network. The CONNECT: ITS is the comprehensive solution to gathering, analyzing, and communicating accurate and reliable information to motorists.
The Connect: ITS System can compute thresholds for:
Advanced Warning
Weather
Variable Speed Limits
Advanced ▰ ▰ ▰
SOFTWARE
Message recording, editing, review, scheduling and synchronizing are quick and easy through the intuitive graphical user interface that features map displays for each HAR system in your network. Manage and store a library of messages for quick release to the public, including the capability to execute commands for your entire HAR network in just a few simple steps.Platinum can manage other transportation communication devices such as flashing beacons and variable messages signs (VMS). The software also has the ability to monitor set parameters and alert an administrator or user through email. The software system consists of a central server that manages and stores all information about the devices, and a client software that allows a user to manipulate and control the central server.
Platinum Software
"HAR can be especially beneficial during emergency situations, such as hurricane evacuations."

Survey results indicated that HAR should be continued and possibly expanded.

UCF Department of Civil, Environmental, and Construction Engineering

FEB. 2016
Read the Summary
Popular HAR System Downloads
Distributor Map HAR
USA
Americas
Canada
Latin America
Ecuador
Sistemas Tecnológicos Cia. Ltda.
Diego Alcocer
593 2 6043210
dalcocer@sistemastecnologicos.com.ec
http://sistemastecnologicos.com.ec
Middle East
United Arab Emirates
Felix Devices & Equip Trading , LLC
Naser Ismail
P.O. Box 235733
Dubai
04 273 7797
felixdevicesdxb@gmail.com
GLOBAL
Technical Support
US Toll-Free: 800-380-1718
+1 (614) 873-5216
Contact Support
If you are not able to successfully troubleshoot and would like to return a product to M. H. Corbin for service, please contact us for an RMA (Return Materials Authorization) Number.